The white T-shirt is the quintessential of a basic airport look not only it has been paraded by the stars but can be styled and paired with anything and everything. Wearing a white T-shirt comes with a stereotype of being "boring" but today we are here to burst this stereotype and bring 5 different ways to wear a white t-shirt that will make you look edgy and chic at the same time.
But before slaying that white T-shirt we must talk about the quality of the cloth it is very necessary to buy a synthetic and cotton blend so that it drapes beautifully whereas a 100% cotton t-shirt can become stiff leading to problems in tucking and draping.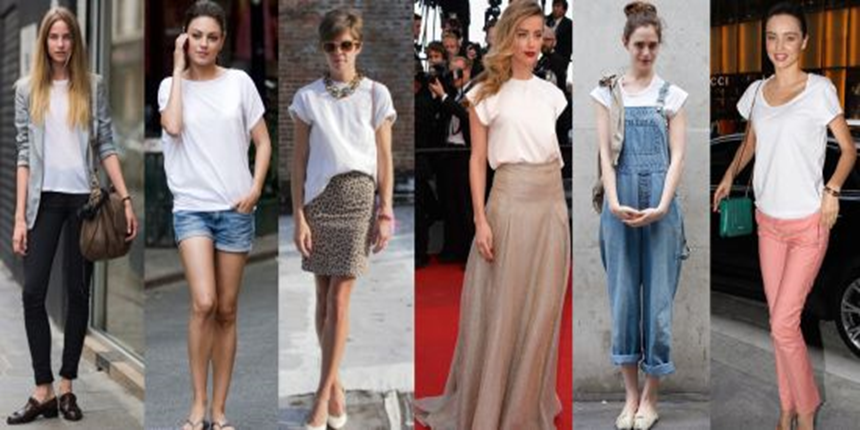 A pro suggestion given by youtuber Alexandra's girly talk which are considered to be a Holy Grail is to always wear a nude bra with your white T-shirt because a white bra will stand out and look different whereas a nude bra will merge with your white T-shirt making it look fabulous and even if your t-shirt is a little transparent you don't have to worry about your innerwear being out in the open as the nude bra will do the job. Once you all are set with all these things you can start tying and draping it the way you want.
1.The front tuck: – it is the best when you are having a bad belly day and a good butt day in this type of Style you need to tuck the cloth firmly in the front side all the way in until you start seeing stains in your t-shirt then fold over the edges and pull out a little cloth until the gatherers drape beautifully with this t-shirt Look you look effortlessly edgy.
2. The Side Tuck: – this is the best way for showing your waist the key to achieve this effortless look is by just tucking in one side of the t-shirt all the way through the middle of your jeans aligning it with a button of jeans making it look flawless.
3. The Knot: – this look has been flaunted by many celebs and is the Classic trend of 2018. it is as effortless as it looks you only need to bring the cloth to the part where you feel is the smallest part of your stomach and then tie a loop at the base and just like that you are done it gives a clinched effect to the waist making it appear smaller you can even wear it with something really high waisted making it look even more chic.
4. The rose knot: – not only it provides a feminine look to your basic white T-shirt but is the most unique t-shirt look. It is not as difficult as it looks rather it is just too simple, grab on some fabric underneath your t-shirt and tie it with a rubber band do it on both sides and it will look like a flower or a rose, making you stand out from the crowd and your basic t-shirt won't be basic anymore.
More from FASHION & BEAUTY
---
The fashion industry is one of the worst hit in the world due to the pandemic. In the COVID-19 world …
1
Interviewer: It is said "We choose what we have faced", does this have any …
Karan: How you got inclined to be a Fashion Designer? Sophia: Before stepping in the fashion business, I as a client have …
Editor Picks
---