Kocreate Noida saw some booming action when powerful women entrepreneurs met from all walks of the service and product businesses for the most enterprising meet of the town held on 29th May 2019! More than 30 women attended the meet while a few more supported the event by sponsoring for the event and partnering with the event organisers.
The event was called Winningstree Networking Meet and was organized by an online portal and FB community called Winningstree! Winningstree was founded by Tanusri Chakraborty who has a vision to empower women entrepreneurs and support them in their entrepreneurial journeys by providing them with a platform to connect, network, buy, sell and advertise also collaborate for further ventures! Do follow her on her FB group https://m.facebook.com/groups/569683023428780?ref=share
The event saw eminent speakers speaking on various facets of entrepreneurship and challenges faced by women entrepreneurs and women in general! The speakers Shokhi, Praggatti, Neeru, Neeta and Navneet conducted brilliant sessions while Payal Sharma took to holistic healing while Bhoomika Sinha gave a make up demo to the Mompreneurs present. It also saw many forums coming together to make the meet more colourful and vibrant with many many opportunities to connect and be empowered! Their were a few entrepreneurs who also displayed their products at the meet
The gifting partners did a tremendous job in making it worth for everyone present with their thoughtful and very women centric gifts!
The gifting sponsors Divya from D Desire, Protima from Progold Naturals and voucher sponsors samhita by Neelam, Insia by Prachi Chopra and Educoncepts India Initiatives by Praggati Rao were the ones who made the participants carry back fond memories from the meet! The table partners for the meet were Smriti's Choco House, Tizzlers, EFO Store, D desire and Progold Naturals who created some unique shopping experience for the participants!
A special mention to Fe-Uri the Pee Aid Partner and gifting sponsor for the meet who arranged some pee aid devices for the women present highlighting the need of a clean india! Also mentioning about WASME house who are the world association of Small and Medium Enterprises and were the certificate sponsor for the meet! The event also had a radio partner (90.4 FM), a media partner (Glam Mint), a food partner(The Artisan Bakehouse), a photography partner (Vikram Sagar Photography) and a drink sponsor (DXN/Roneeta Creations)! Lovely decorum and lovely decor provided by the Venue partner Kocreate was also a add on! All in all this was a interactive and interesting meet to remember and every bit of it was being enjoyed by the participants! Hoping to see more such meets by Winningstree where everyone is a winner as the name truly suggests and the meet certainly did live upto the name!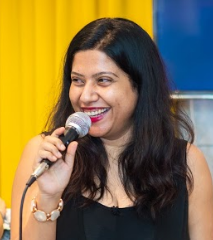 More from HEADLINES
---
Sanjay Dutt turns 61 with the power blast of his new look as "Adheera" in KGF Chapter 2.Gossip of …
In a Short Conversation with Sexy and Brave Heart Meera Mitun, she told about nepotism in Kollywood. Just like Sushant …
Katrina Kaif, Siddhant Chaturvedi and Ishaan Khatter will be seen in Phone Bhoot, a horror comedy produced by Excel Entertainment …
Editor Picks
---