A Bronzer is used to imitate natural sun tan. Bronzers also make your face look thinner and more structured. If you have a round face, using bronzers the right way, can give your face a better precision. But a little mistake can make you look muddy or worse!! Whether you have fears about tanning, very pale skin, or want to learn how to contour your face, applying bronzer is the ultimate solution. Applying bronzer incorrectly can make your face look orange or dirty though.
How to choose a bronzer?
Since the purpose of a bronzer is to darken the complexion subtly, the one you choose will depend on your skin tone as well as how dramatic a change you're looking for.  Generally, it should only be two shades darker than your natural skin Test a little on the clean skin of your face to make sure it "warms" your skin tone without making it look fake.
If you have a fair skin, look for a honey-colored bronzer; for a medium complexion, choose a rose-bronze or gold flecked bronzer; dark skin is best enhanced with a tawny (of an orange-brown or yellowish-brown color.) or amber(more yellow warm tones) bronzer.
Where to apply bronzers?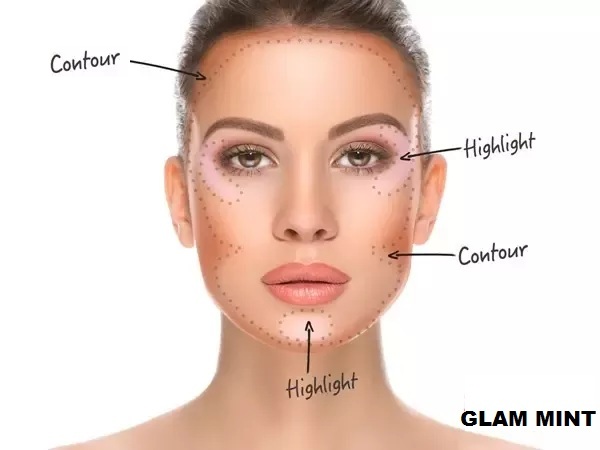 It's best to picture the state of 3 while bronzing. Begin off at the sanctuary, heading off to the cheekbones and after that under the jaw line. This is the place the sun normally hits your face and concentrating on these ranges will give you that exquisite glow.
To make noses appear smaller or straighter, use an eye shadow brush to trace bronzer along both sides of the nose -this gives the illusion of symmetry and slimness.
Types of bronzers
Spray Bronzers
Yep, these exist! They're not as popular as cream or powders and most fall under the self-tanning category—not makeup. They're not as clear and concise with application, and this isn't the option for you if you're looking to highlight JUST your cheekbones.
Powder Bronzer 
Powder bronzer is one of the more popular types of bronzers used by makeup lovers, and is traditionally applied with an angled bronzer brush. Product Recommendations: Giorgio Armani Sun Fabric Sheer Bronzer in 100, NYX Matte Bronzer, L'Oréal Paris Infallible® Pro-Matte Powder.
Cream Bronzer
Cream-based bronzers (like Urban Decay Bronzing Beauty Balm) are fantastic for applying heavier coverage or creating a more sculpted contour on the skin. Also recommend cream bronzers for those with dry, mature or wrinkled skin.
 Liquid Bronzer 
Liquid bronzers (like Giorgio Armani Maestro Liquid Summer Bronzer) are quite easy to work with once you get the hang of them. Use liquid bronzers on clients who want to have a naturally contoured appearance.
Priyanka Makhijani is a professional makeup artist having 8 years of experience in the field. She has worked with renowned brands like Sephora , VLCC and even in Monsoon Salon And Spa as a Head make-up artist and trainer. She did Amazon Fashion Weeks and worked with top designers. Currently, she is associated as a Trainer with Pearl Academy of Fashion.
https://www.facebook.com/wowmakeovers/?pnref=lhc